According to Taiwan 's "China Times Newspaper" reported on the 31st, Taiwan 's leader Tsai Ing-wen had previously threatened to pass the so-called "reverse penetration law" today (31st). To this end, the New Party and other groups called on people to Taiwan early this morning. Outside the "Legislative Yuan", they protested against the DPP's move to push for bad laws. Zhang Anle, president of the Taiwan Promoting Party, criticized the "reverse infiltration" law for maiming people and questioned the Cai authorities, "Did you dare to fight on the front line if a war broke out?"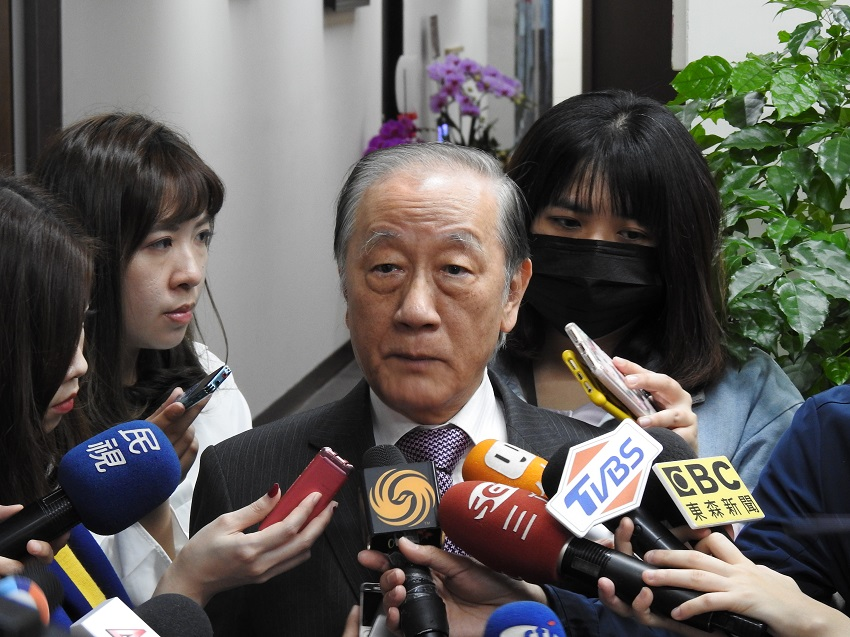 Yu Muming (Source: Taiwan Media)
It is reported that the New Party Youth Army wore a red God of Wealth hat to the "Legislative Yuan" in Taiwan early in the morning, symbolizing "against the 'Reverse Osmosis Law', not afraid to wear a red hat, our red hat is a rich hat," and pulled up "green terror is lawless" Banner. New Party Chairman Yu Muming criticized the "Reverse Penetration Law" regardless of the procedures or the nature of the law. He hoped that the Taiwan legislature could shelve the draft.
Qiu Yi, a candidate for the "Legislative Party" of the New Party, questioned that Cai Yingwen said that after the adoption of the "Reverse Osmosis Law", Song Chuyu, the chairman of the People 's Democratic Party, and Lin Feifan, deputy secretary-general of the DPP, said that after approval, Qiu Yi, Wu Sihuai, Zhang Ease, is this law for the DPP? It is basically the "East Factory". Qiu Yi believes that Cai Yingwen's promotion of this method is worried that mainland Taiwanese businessmen will return to vote, preventing her from being re-elected.
It is reported that in addition to the New Party, there are many groups to support the scene. Zhang Anle, the president of the Party for Promoting the Party, denounced that the "Reverse Penetration Law" is basically a law that harms the people, and questioned those who messed with it. Once the war broke out, would you dare to go to the front to fight instead of dragging others down?
Regarding the Taiwan authorities' push for the "Reverse Penetration Law," Zhu Fenglian, a spokesperson for the Taiwan Affairs Office of the State Council, said at a press conference on December 25 that once the law is passed, any party, group or person with a different position from the DPP dares to criticize it. The DPP's media, Taiwan compatriots who come to the mainland to study and gain employment, and people who participate in cross-strait exchanges and cooperation may be "unnecessarily" buttoned, smuggled, subject to arbitrary investigations, fines, and even sentenced to prison. Zhu Fenglian said that the DPP authorities pushed the evil law backwards, created "green terror", restricted cross-strait exchanges and exchanges, increased hostile confrontation, and harmed the interests of Taiwan compatriots. They will eventually eat the evil results. [Global Network Reporter Yin Yanhui]