According to news from many Taiwan media, the "Legislative Yuan" of Taiwan passed the so-called "Reverse Osmosis Law" on the third reading today. The "Bill" stipulates that you must not accept "infiltration" source instructions, commissions or funding, donate political contributions, or engage in various election activities in the "election strike". Violators can be sentenced to 5 years in prison and NT 1,000. Fines up to 10,000 yuan.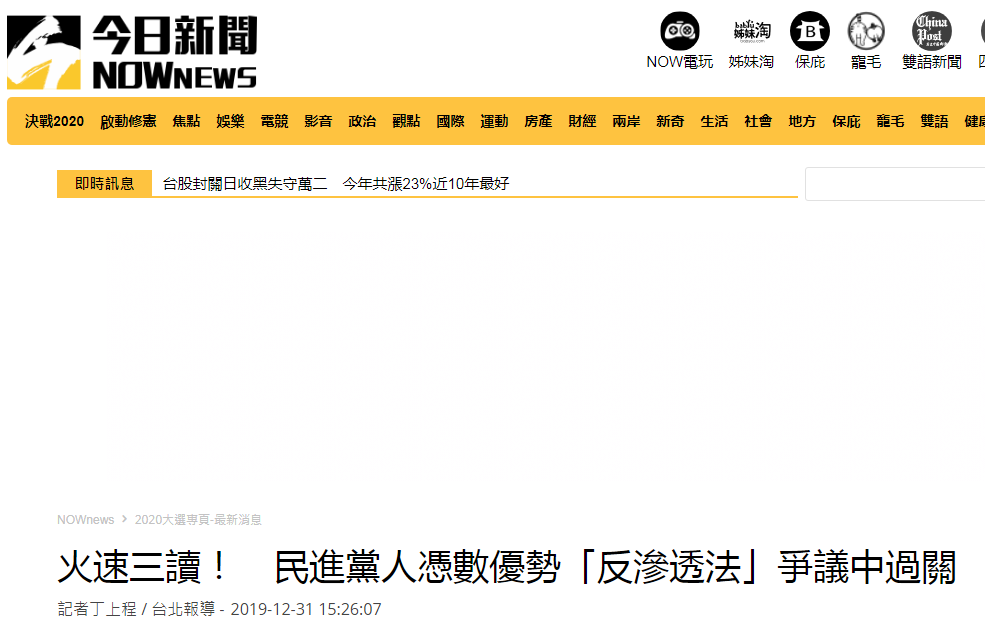 Taiwan media report screenshot
In a media interview on the 29th, South Korea 's Yu mentioned the "Reverse Penetration Act" promoted by the DPP. He said that once the "Reverse Penetration Act" was passed, including Wu Tian and Wu Baochun who were selling bread, they could be prosecuted as if they were bombed in Taiwan People's necks can be detonated by the DPP at any time.
Regarding the Taiwan authorities' push for the "Reverse Penetration Law," Zhu Fenglian, a spokesperson for the Taiwan Affairs Office of the State Council, said at a press conference on December 25 that once the law is passed, any party, group or person with a different position from the DPP dares to criticize it. The DPP's media, Taiwan compatriots who come to the mainland to study and gain employment, and people who participate in cross-strait exchanges and cooperation may be "unnecessarily" buttoned, smuggled, subject to arbitrary investigations, fines, and even sentenced to prison. Zhu Fenglian said that the DPP authorities pushed the evil law backwards, created "green terror", restricted cross-strait exchanges and exchanges, increased hostile confrontation, and harmed the interests of Taiwan compatriots. They will eventually eat the evil results.