The Hong Kong SAR Government website released a short video today (December 31). In the short video, the Chief Executive of the Hong Kong Special Administrative Region, Mrs Carrie Lam, and several directors reviewed the work of the past year and raised New Year's hopes. Lin Zhengyue said in the film that the social unrest caused by the amendments continued for more than half a year. She said that in the new year, the society is willing to restore peace as soon as possible and Hong Kong can start again.
The short film was also published on Lin Zhengyue's Facebook page entitled "Treasure Hong Kong as a Home". Mrs Lam and the Financial Secretary, Chen Maobo, the Secretary for Labour and Welfare, Mr Law Chi-kwong, and the Secretary for Transport and Housing, Chen Fan, appeared in the video.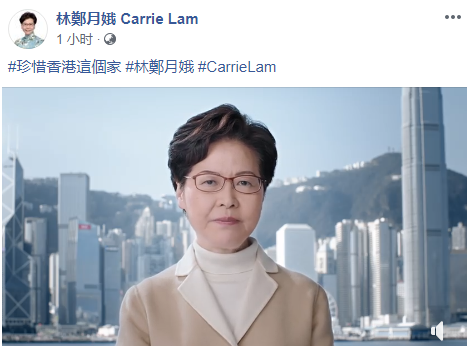 Lin Zheng Yue'e Facebook screenshot
Mrs Lam said that Hong Kong has experienced unprecedented severe challenges in 2019. The social turmoil caused by anti-revision legislation has lasted for more than half a year. The public feels sad, anxious, disappointed and even angry.
Lin Zhengyue said that she would listen with an open mind and find a way out for the society. In the process, she would also adhere to the "one country, two systems" principle and maintain the core values of the rule of law. She believes that in order for Hong Kong to move forward steadily, in addition to dealing with the difficulties before it, the SAR Government must also recognize the deficiencies in the system and the deep-seated contradictions that have accumulated over the years.
Mrs Lam emphasized that Hong Kong people had weathered many storms with perseverance and wisdom in the past and believed that they could once again overcome difficulties and rebuild Hong Kong. She said that the new year brings new hope, and hopes that the society will return to peace as soon as possible, and the people will get along well and Hong Kong can start again. [Global Network Reporter Yin Yanhui]
Video Production: Wang Xinyi